OTBW Results
Case Study: Resort Golf Shop

ΞΞ
Spreadsheet
ΞΞ
OTBW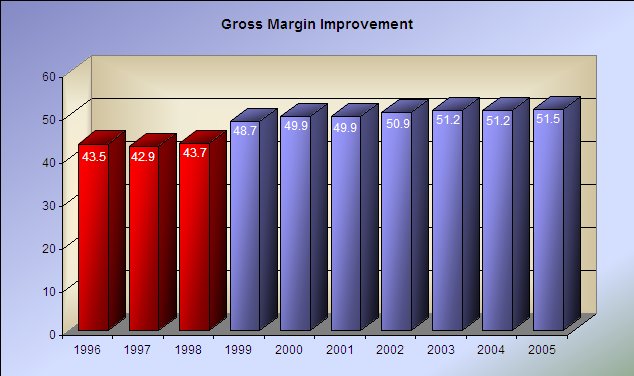 The chart above is of an actual shop that transitioned from a good spreadsheet to OTBW. At this ($500,000/Year) shop, the increased margins amount to ($36,000/Year)! Nothing else changed. Same management, same buyer, same physical shop.

Looked at another way - $36,000/year had been the annual COST of the "free" spreadsheets they had been using before automation.

How much input time was required? About 18 hours/year. Was that time well spent? $36,000/18 hours = $2000/Hour.

How can an inventory plan make such a large difference in gross margins? OTBW optimizes inventory in every classification and updates o-t-b calculations dynamically with every entry. You never have too much or too little. This improves sales, profits, return on investment and every other measure of good retail management.

Attempting to manually out-calculate O-T-B software is a costly decision!